The Tour de France, arguably the biggest event in the pro-cycling calendar, rolls out of Dusseldorf this weekend, and I am reminded of just how much has changed in British cycling since Dave Brailsford became the General Manager and Performance Director for Team Sky in 2010. Before then, no British cyclist had ever won the Tour de France, and since then both Bradly Wiggins and Chris Froome have won it 4 times between them.
Brailsford believed in the "aggregation of marginal gains". He believed that if you improve every area by just 1 percent, then all of those small gains would add up to remarkable improvement. Bralisford started by optimizing the obvious things: the aerodynamics of the bike, the fit of the cycling clothes, the nutrition of riders and the weight of the tires.
But he didn't stop there; he looked for marginal gains in areas that no one else had considered, like discovering which pillow offered the best sleep and taking it to team hotels, and teaching riders the best way to wash their hands to avoid infection.
Brailsford believed that if they could successfully execute this plan then Team Sky would be in a position to win the Tour de France in five years' time. He was wrong. They did it in three!
It's unlikely that you will find yourself in the Tour de France, but the concept of aggregating marginal gains is useful nonetheless.
In business, we love to talk about success as an event. We talk about 100% year on year growth or hitting a revenue target number, as if they discreet stand-alone events. But the truth is that they aren't, but rather the sum of all the times when we chose to do things better.
At FlowForma, we look for these gains in all the obvious Everyday Processes, like automating how we manage expenses, track incidents and onboard new employees. But we don't stop there; we look for marginal gains in the less well exploited Dark Processes, like Certification of Audits, People Revalidation and Sales Automation.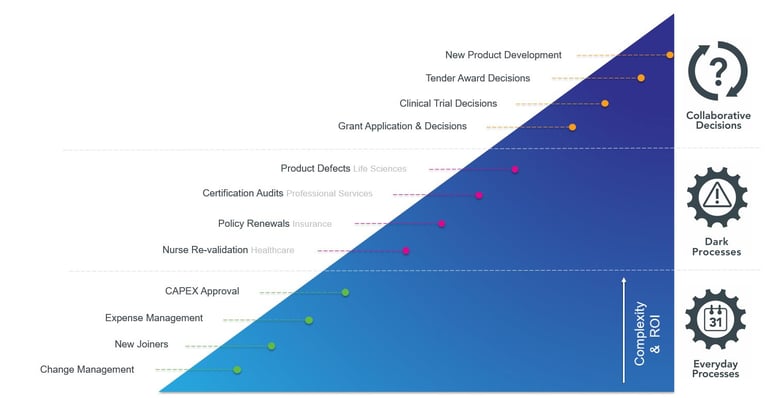 We believe in the aggregation of marginal gains, and we believe that they can be best made by those in the thick of it, at the very moment they notice something needs done.
By putting the power to make the marginal gains into the hands of the citizen developer, FlowForma BPM allows process owners to take control all aspects of the process. With the use of Flow Designer to define process steps, questions and business rules, they can create and edit processes on the go, without writing a single line of code.
Find out more about how FlowForma BPM can improve your productivity and, in turn, transform your whole organization!