Spring came and went in the blink of an eye. The bright season brought to us some much needed hope and optimism. Here at FlowForma, Spring gave us all a burst of energy. Our Customer Success team has taken on some very inspiring new customers and our R&D team sprouted some incredible new features and functionality to further empower our citizen developer community. If you'd like to hear about our new reporting, DocuSign integration, process health checker or process assistant – simply book a demo with one of our specialists.
This Spring, we brought you some exciting online events with tips and advice to help your business to grow. Below I've shared some of the content we produced this spring to help you to continue your process automation journey.
Webinar Recording: Keep Up With Digitization Demand - Launch Your Process Automation Journey
No longer is the question about whether to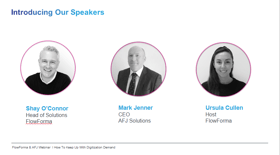 implement a business process automation tool, but rather how to implement rapidly as part of your digital transformation strategy.
In this webinar recording AFJ Solutions CEO, Mark Jenner and FlowForma's Head of Solutions, Shay O'Connor discuss the challenges that businesses face today and how they can be overcome by implementing a no code processes automation tool.
Watch the Webinar Recording Now!
Construction Infographic: Your Guide to 2021 Process Digitization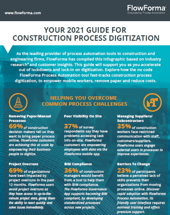 Download our latest infographic based on industry research and customer insights, to guide you as you accelerate out of lockdowns and lock-in on digitization.

Highlights include survey statistics regarding construction process challenges and how to overcome them, tips on how to get started, a useful process automation timeline, and ROI stats from those who have successfully digitized.
PEX Report 2021 - Capitalizing on Change and Innovation in an Altered Business Environment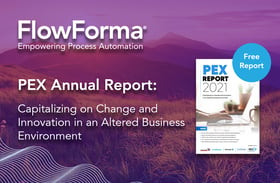 2020 was a year of constant challenges and business transformation. The PEX Network Annual Report is a free guide to planning and managing the year ahead. It offers real world examples of how organizations across all industries are digitally transforming, to drive a culture of continuous improvement.

Visit page 40 of the report for expert insights into why you need to digitize processes to succeed in a pandemic world.
Download Your Free Copy of the Report Here!
How Automation Can Save Costs Today -
Creating Growth Through Stability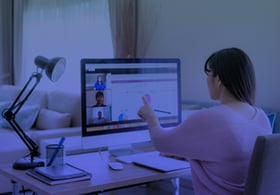 The societal changes due to the pandemic will have a lasting impact on every single business. Drastic changes to the way we work, live and interact with others require powerful responses from the businesses who want to remain successful.
Speak to us about how our no code tool can help transform your business to gain a competitive advantage.
Webinar Recording: Migrating From InfoPath To FlowForma Is A Piece Of Cake!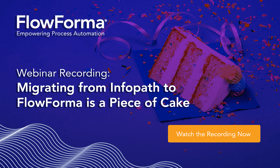 With support for InfoPath ceasing in 2026, it's officially time to start planning your InfoPath migration. Here at FlowForma, we've made the migration a piece of cake, with our unique InfoPath Migration tool.
Watch the Recording to Find Out More!
Want to Learn More?
Hopefully the above resources will benefit you greatly in your process automation journey. Follow FlowForma on LinkedIn, Twitter and Facebook to stay notified on the exciting content that FlowForma strives to produce in the future.
Have any further questions about how process automation can empower your organization? Book a demo with one of our experts. Additionally, you can try a free 14-day trial of our process automation tool no credit card - no commitment!