There is a race to digitize in construction. The industry is embracing new technologies at speed, from automation to BIM and analytics tools. However, with so many products on the market, it can be difficult for business leaders to know which to invest in.
Introducing the right tools, hardware, and software can be game-changing for a construction firm. The industry faces many unique challenges, such as:
Project delays

Labor shortages

Compliance regulations

Worker productivity

Poor visibility and reporting

Rising cost of materials
On top of this, digital transformation in the construction industry isn't as simple in as it is for other industries. Projects are complex, contractors and subcontractors are brought in on a short-term basis (and don't have time to learn new tools), and builds happen on problematic construction sites, where it is difficult to deploy technologies.
Despite these challenges, digitization in the construction industry is moving forward. Business leaders are adopting digital construction tools and seeing the benefits of their investment. But which technologies have been most effective and how are they changing projects for the better? Here we identify five key trends which are taking the industry by storm.
1. BIM Software
Building Information Modelling (BIM) software lies at the heart of digital transformation in construction. It helps an organization to manage information throughout the lifecycle of a construction project – connecting data across the value chain. During the lifecycle, a detailed description of every part of the build is developed, using a combination of 3D technology, structured data, and collaborative handover methods.
How does BIM help construction firms?
BIM technology is crucial for construction firms. It joins up a previously fragmented value chain, ensuring that data is passed from the design stage, onto engineering, construction, and operations etc. A BIM platform will open information up to workers across a project lifecycle, meaning that important data gets handed over at each touchpoint.
BIM technology improves productivity throughout a project, making every build more collaborative. With a new visibility over project data, logistical problems are flagged earlier and decisions can be made at speed. BIM technology fast-tracks the construction lifecycle, without compromising the quality of a build. It reduces the project delays seen so frequently in construction and delivers significant cost savings across the lifecycle of a project.
Why adopt BIM?

BIM is rapidly becoming standard practice throughout the construction industry – for good reason. It is the first truly global digital construction technology and is rapidly being deployed in every country. In construction, an ROI grows alongside a commitment to BIM processes and standards.

For business leaders looking to adopt new technologies, BIM is a great place to start. A digital tool for the AEC industries (architecture, engineering, and construction) should be BIM compliant as a priority. There are levels of maturity for BIM compliance and choosing a digital tool that promotes a high level of compliance is an important first step.

FlowForma's digital construction tool demonstrates high levels of BIM compliance around information management. Sign up today and try for free.
2. Digital Documentation
In the age of digital transformation, businesses are looking to eliminate manual processes. For construction firms, many still exist, including:


Contractor/ subcontractor onboarding

Permit to dig

Health & safety reports

Material requisition

Risk assessments

Project approvals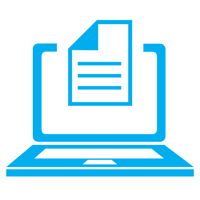 These processes are typically carried out via manual methods, but construction firms are beginning to migrate toward digital documentation. Construction relies on cross-organizational content, with processes taking place across clients, architects, suppliers, contractors, subcontractors, engineers, operations, and stakeholders. Transferring documents to submit approvals or requests, complete a process, or achieve transparency between parts of the value chain is necessary for this industry.
Why use digital documentation?
Transferring documents via email chains, or other manual methods (pen/paper) is not sufficient in this industry. Content-based workflows touch all parts of the construction lifecycle and, to stay competitive, businesses must pivot toward digital documentation. Construction firms need to find a digital construction platform that supports the flow of large, complex documents, which is both user-friendly and productive.
FlowForma's construction software makes the move to digital documentation easy. The no code platform digitizes construction workflows, forms, and document generation for businesses to get up and running straight away. This helps construction firms avoid delays in construction projects.
Read: Top 5 Use Business Process Automation Use Cases For Digitalizing Construction
3. Mobile First Tools
Construction projects by nature, happen remotely. The builds take place on remote sites, often outside of cities, and do not always have the infrastructure to support digital systems. The job sites can be exposed to brutal weather conditions and have minimal internet service options. Deploying stationary hardware on-site, such as desktop computers and servers, is usually not an option.
Why use mobile devices?

In this industry, workers require quick access to accurate information during the build stage. Decisions often need to be made "on the fly", and, without access to project data, problems can begin to stack up.

Because of this, construction workers are increasing their reliance on mobile-first tools. A digital construction tool that can be used on-site is valuable to employees working remotely. With a mobile-first tool, construction workers can communicate effectively and collect and access data in a more structured way, rather than via paper forms or email in which there is a high chance of human error. The devices allow employees to react promptly to unanticipated events on job sites and minimize the risk of project delays.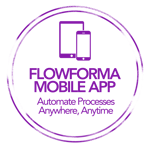 FlowForma's mobile app supports remote working on construction sites. Start a process on our mobile app, save it for a later date, or continue it on your desktop when you are back in the office.
Learn how road construction is simplified with our intuitive software right here.
4. Process Automation
Productivity in construction has always been a problem. In the United States, between 1947 and 2010, productivity levels in construction barely changed at all – despite new technologies on offer. Digitization in the construction industry has been slow and even today – when businesses across the globe are using technology for greater productivity – construction workers swear by old-school methods.

Many construction firms still rely on manual methods (paper forms, email chains, content spreadsheets, and Word documents) to complete processes throughout the value chain. For example, site managers will request new materials on-site by sending an email to the requisition teams. This method might appear sufficient, but emails are misunderstood around 50% of the time we read them, according to Nick Morgan, author of Can You Hear Me? In construction projects, misunderstandings amount to wrong materials arriving to job sites and subsequent delays in projects. For other processes, such as those concerned with health & safety, the misinterpretation of data can have more serious implications.

Why use process automation?

There are so many processes by which a construction project operates. Automating just some of these creates a large uptick in productivity and helps construction firms to stay compliant. With FlowForma's process automation tool, site managers can use automated digital forms to request materials, using accurate data fields that cannot be misinterpreted. Or site risk assessments can be carried out safely and reliably, in a way that meets compliance regulations.
Process automation can mean the difference between a business that remains unproductive and one which regularly hits productivity, cost, and deadline KPIs. Time and time again, automation is hailed as the best way to boost productivity within a company. Construction firms, such as FlowForma customer Sullivan Engineering, have saved over 700 hours per year on repetitive tasks, using intelligent process and workflow automation. With FlowForma's process automation tool, construction workers are empowered to digitize processes in-house, unlock serious savings, and gain a competitive advantage within the market.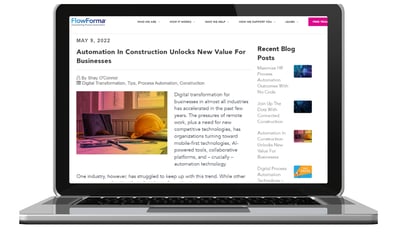 Read: Automation in construction unlocks new value for businesses.
5. Data Software
Data has become a commodity for organizations worldwide. In construction, it's no different – with business leaders approaching digitization in the construction industry as a way to access and harness project data. Over the lifecycle of a project, vast amounts of data is produced, from building models and cost estimates to scheduling and process insights. If a construction firm uses a connected data repository (or connected construction platform), business leaders can gain a holistic and detailed picture of their company's operations.
Why use data software?

Data software is vital for construction firms that want to take a long-term view. Many construction firms do use content repositories (e.g. OneDrive, Google Drive), but these are not sufficient for data analysis. Typically, a wealth of data will exist in these repositories, but employees do not have the technology or know-how to leverage it.

Connected construction platforms, like FlowForma's process automation tool, join up a construction firm's data in one central environment. This includes project data from every part of the value chain, giving business leaders a holistic picture of operations. With FlowForma's reporting function, analytics can be pulled easily from data repositories. Employees can create reports on their business processes that are visually appealing and simplify complex data profiles. FlowForma's customers use the reporting tool to make data-driven business decisions and improve processes in the long term.
The Bottom Line
Digitization in the construction industry is moving forward. Despite unique challenges, the construction industry is embracing five key digitization trends. Adopting BIM standards connects construction projects across the value chain. A shift toward digital documentation ensures better document management and productivity. Mobile-first tools allow construction workers to complete processes on job sites and access project data. Process automation fast-tracks construction processes for a rapid ROI. And using data software gives business leaders a holistic picture of processes, enabling better business decisions.

Want to accelerate your digital transformation? Or start from scratch? FlowForma's no code tool empowers construction firms to digitize at speed. Register for your Free Trial today!