No matter what industry you work in, I'm sure you've heard people talk about the need to automate and if we look at the trends right now, this isn't going to stop. So how do we ensure our staff see the exciting new world of automation, as opposed to the scary world of automation?

That's just one small piece of the puzzle, and yet the challenge is real. "How am I supposed to learn yet another system?", is a very common question, because, let's face it, one piece of software won't take care of everything. Many users still remember the days when the introduction of a new system meant days of training and a steep learning curve. This is where the Center of Excellence comes into play.
Designing Your Model
I've seen some really good examples already where companies have adopted this model – not just for automation. According to Forrester Research Inc., more than half of companies now use a Center of Excellence model. This might be exactly what you need to look at to overcome the challenges of automation, but what exactly does that mean?
I find it easiest to explain something, when you can relate it to something everyone knows already, so let's take a mobile phone as an example. You most likely use a bunch of different apps on your phone. You download them from the App Store or Play Store or something equivalent. This Store is your mobile phone's center of excellence. It's a shared facility that everyone goes to when they need an app, and to ensure some level of consistency and quality, 'they' have put standards, rules, and guidelines in place. Development teams across the globe are responsible for the apps, the phone's operating system is handled by someone else, but it all comes together with this Center of Excellence – the Store.

So where does this fit into a company, specifically when it comes to automation? Is this part of your IT function, or where exactly does it belong?
Defining Your Automation Center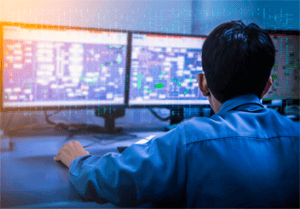 If you have embarked on the 'no-code' or 'low-code' journey with software solutions, you probably know the answer already, because you put a project team together with members from various functions. You knew up front this wasn't 'just' IT, so you included someone who provided best practice and leadership, someone who researched the business needs, someone who was able to implement and support the solution, offer training, etc. But a project is defined with a start and an end date, but what happens after that? How can you scale this approach, so you can automate not just one, but fifty, or eighty different 'things' in 2019?
Imagine you move away from the standard project approach, and set up a defined Automation Center of Excellence instead. You don't pick one piece of software to implement, you pick however many 'things' you're going to automate. You make everything available from one place – your Automation Center of Excellence platform.
Your Automation Center of Excellence will rely on resources from various different business units – IT, operations, support, etc. Each of those business units will provide the items required for the particular roll-out, but with this centralized approach, your focus starts with the selection and adoption of the underlying technology, and delivery is based on best practice.
Success!
Because of this centralized ownership to automation, you can ensure the relevant systems talk to each other, so you avoid duplication of work. It's all under one umbrella. It's controlled. It's efficient. It's excellent!

And at the end of the day, you didn't turn into a robot, you actually got rid of a lot of repetitive, manual tasks. All thanks to automation - and nobody got lost in the process!
Talk to our product experts to learn more about process automation and your digital transformation project, or why not take a free 30 day trial today, no credit - card no commitment!