Read this blog to discover how FlowForma is the ideal alternative to InfoPath...
In January 2014, Microsoft announced that their investment in InfoPath had come to an end. With no significant road map in sight from preceding years, this was an inevitable conclusion to their e-forms product. Four different alternatives were offered for Forms building – Excel, Word, Access and SharePoint list forms with some of these offerings not yet available.
We encountered, several years ago, that even with using Microsoft InfoPath for client projects, we struggled with building a tangible business case for our clients. The tangible return on investment became difficult to prove for business process enablement projects due to the fact that a significant proportion of work was still required to go into workflow development.
Also, InfoPath can produce quite aesthetic forms, but dealing with certain complexities within forms proved challenging.
Since January 2012, the FlowForma product has been in development and, following beta, officially launched in Ireland in May 2013. We've quickly expanded into the UK and beyond (Mainland Europe and the States). Feedback from our clients and partners afford us to believe we've landed on point.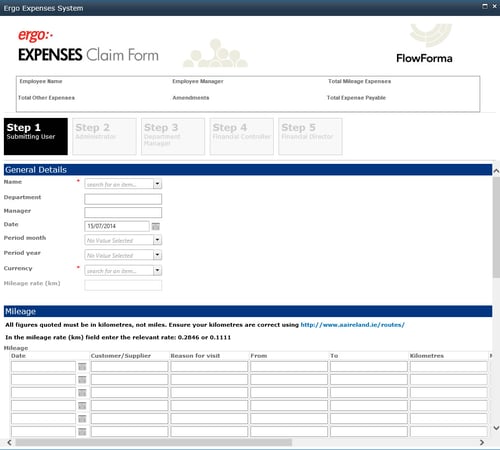 What's the big deal? We have several key callouts but our main focus is 'speed to deliver'. We achieve this through several means. While other tools are 'software developer' focused we insist on being a 'business user' focused tool. To make the complex simple can be a tough challenge but that is our mantra. We assume with every e-form that is built there is always a workflow (in effect that is reality) – so we built a product to have workflow fully integrated in with the form building engine. A step in the process can contain both workflow and/or data capture.
Making these conscious decisions about our product ensures that forms and their associated workflows can be built in ground-breaking time.
We recently built a CAPEX approval form for a client with 1,500 users in 3 hours, including all relevant business rules.
With another client we built their end-to-end HR performance appraisal process from the ground up in 2 days.
Obviously, more complex processes take some more time but the key element is arming the business analyst in your organization with the tool. Indeed, the closer you can bring the business users to the solution, the greater chance of successful project implementations.
And we are not finished there - real-time and historic activity monitoring are also included. Integrated document generation, Scanning & Indexing and Email integration are all provided for. The future looks strong.
We're ready to take InfoPath's place.