You know you've made the right decision. You've carefully selected the new software you'll be using in your business. There's no doubt in your mind, so why are you feeling stressed?
It won't help much that I tell you it's perfectly normal. You're thinking about the months ahead and all the work involved in proving to the business that you did in fact make the right decision. You're thinking about that moment when the rest of your organization will see the end-result, and you'll find out if they like it…
The good news is that your success is our success, and we're there to support you every step of the way. We're basically there to remove that layer of stress.
The FlowForma Safety Net
Chances are you've heard all about our FlowForma SureStart package, but you also know it isn't just a button you push, and magic happens. There's more to it than that, but it's actually quite simple. Get the right team together and get them talking. Leave us to guide the implementation, and you'll quickly see how we can take the stress out of the onboarding experience.
Select the Right Team
The questions you need to ask yourself are:


Who should be on the team?
Why are they the right people?
Who's going to help sell this great, new solution?
If you have someone who's excited about new technology and embraces change, then that's part of your answer. This person will help build momentum around the project, and that'll help convince others in your organization.
Naturally, that initial level of excitement isn't enough. You also need someone who'll understand the bigger picture and who can see the benefits, but who's equally prepared to work on your initial quick-win project. You want someone who's prepared to talk about that, and you need that person to have enough credit that others will listen.
Once you've picked the team, we'll work with you to deliver quick results. We'll help you build early prototypes, so you can show immediate results. This will get your champions even more excited about the solution, because ideas are turning into reality right in front of their eyes.
Generate Interest
In order to get something live quickly, it's a great idea to select a project that'll impact many, but won't take too long to deliver. We'll typically set aside 6 weeks for that initial project.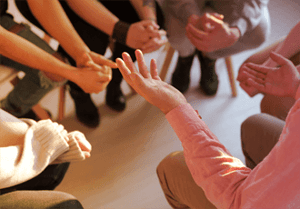 Whilst working on that first project, it's important the rest of the organization can start imagining other uses of the software though, as this is how you drive user adoption up. You want the "I know we are only using it for this in the beginning, but imagine what we can do in the future" type-of-thing.
Let me give you a more specific example around FlowForma. You can use our software to implement HR processes, but you can just as easily implement a process to capture mechanical faults, project stage gates, patient referrals, etc.
This is important, because if you get your team (or, better still, your extended team) to understand what the software can be used for, they can help plant seeds, and when your process is ready to go live 6 weeks later, other departments will have lined up teams to start their own projects as well. They won't have to go through all the steps of selecting the software, as they've already seen your success, and if you don't have resources internally to help them build a prototype and finalize the implementation, then we can always help either train them or actually assist with the build – just like we did in the beginning.
Go get a Coffee
Let's assume you did manage to put the right team in place, and you're working your way through SureStart together with us. It's ticking along nicely, but that doesn't mean you won't find yourself thinking about this during dinner or late at night. The fact is, software projects can be intense and a lot of hard work.
But when software projects deliver quick results, and you find the rest of your organization engaged, you'll not be picking up coffee because you didn't sleep all night. You'll be picking up coffee to have a chat with someone who wants to hear more about your project, so they can start planning their own.
User adoption is key, and it's made simple by picking no-code software that enables users throughout your organization to become actively involved in projects.
Take a free 30 day trial of FlowForma Process Automation and see for yourself how your first automation project can flourish by digitizing your internal business processes.