The latest release of FlowForma - version 5.0 - is jam packed with innovative features and components, so it was quite difficult to narrow it down! But here are my top 3 favorite features of FlowForma 5.0:
1. CDE (Collaborative Decision Enablement)
FlowForma BPM 5.0 now enables users to capture decisions as a group. As part of this feature, we must give the user easy access to all information at the time of the decision. This is why we created the Collaboration Panels. Users can see who is involved in the decision and all content related to the decision.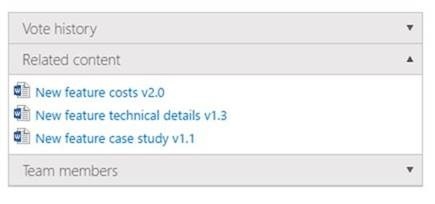 The collaboration panels are one of my favorite features, because it is such an improvement to forms user interface. Users can access all information relating to their process from the one screen.
The panels idea came from one customer's feedback, who said they really liked the Flow Designer UI (on our Flow Designer we have the configuration each step/question as an expandable panel). Each panel is expandable and has its own set of configuration, for example related content can be any library/folder on the site.
The files are then displayed in the 'related content' panel to the end user. Users can choose which panel to use on a particular step and in which order they should be displayed.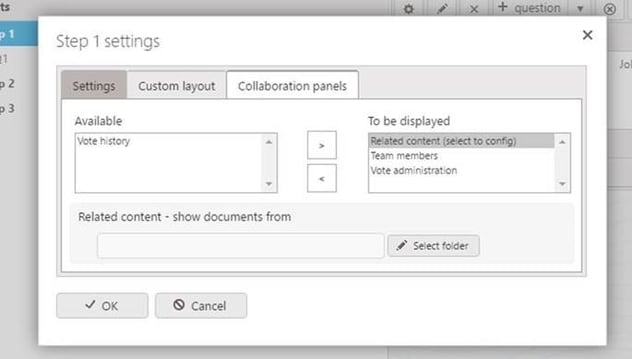 2. The Life Sciences Feature Pack
The Life Sciences Feature Pack is made up of multiple features. One of these features is the Document Snapshot. Detailing a process for audit and compliance purposes is always a best practice when rolling out a new process, but who wants the job of doing that. Not only is there the effort of detailing out the whole process but also the details in each step, question and rule.
On top of creating this document, there is also the maintenance of the document. FlowForma is a flexible forms and workflow tool that allows user to quickly update and completely change their processes.
The Document Snapshot allows process owners to:
a) visually see how their process flows, and
b) generate a document that details each step, question and rule.
The document translates programmatic rules into plain text and labels each section so it can be read by a user who has never used FlowForma but now understands your process.
3. Feedback
This is one of many enhancements that come through our internal innovation programme. The idea originated from the issue of getting feedback directly from end users of FlowForma. I love the feedback feature because not only is it a nice, fun feature of the product but it also helps us close the gap between our team and the day-to-day end user.
The feedback option allows users of any level to submit feedback in the form of a smiley face. Users also have the option of submitting a detailed report of their experience.