The BPM landscape is changing and constantly evolving. With traditional Business Process Management (BPM) projects, the primary goal is mainly cost reduction, justifying the expense and resource-intensive nature of these projects.
However, as technology evolves, Digital Process Automation (DPA) is quickly emerging as an important evolution of the traditional category of Business Process Management. There is now a growing business need to automate processes as part of wider digital transformation initiatives.
"Within the next two years, the primary goal for business process management (BPM) projects will be to drive digital transformation initiatives." - Traditional BPM Gives Way to Digital Process Automation, Forrester Research, Inc., February 2017.
Where once cost savings drove BPM, the new goal is now digital transformation. Digitizing all business functions becomes a priority as businesses move increasingly toward a customer-obsessed operating model.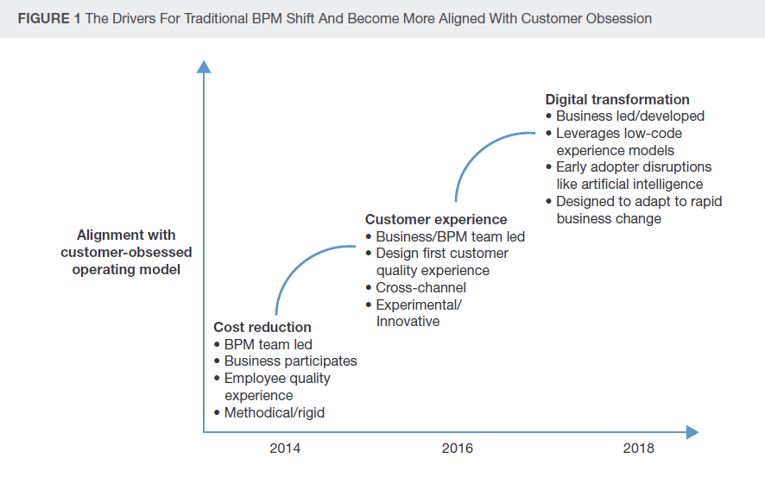 Copyright © 2017, Forrester Research, Inc.
To make the shift from BPM to DPA, application development and delivery (AD&D) professionals should look for vendor offerings with three characteristics:
1. Tools to build and onboard applications fast
2. A focus on user experience
3. Innovation at consumer pace
Make the shift with FlowForma BPM
An award-winning Microsoft Office 365® Add-In, FlowForma is a no-code BPM tool, which enables business users and Heads of Departments to quickly implement processes such as HR onboarding, new product development and clinical trials as well as many others, increasing organizational efficiency and productivity.
Unlike most traditional BPM softwares, FlowForma has all three characteristics recommended by Forrester to make the shift from BPM to DPA:
› Tools to build and onboard applications fast
The FlowForma BPM tool enables business change by allowing rapid prototyping of no code business solutions, which can be configured by the process owner or business decision maker, with an intuitive user interface to encourage adoption. Integrated forms, workflow and document generation are combined in one easy to use toolkit to build complete solutions.

› A focus on user experience
FlowForma is committed to driving business value for its customers. Recent additions to the FlowForma BPM tool have included a Visual Flow Designer to aid rapid prototyping, Life Sciences feature pack to help make compliance seamless and version 2.0 of a unique Collaborative Decision Making feature to enable fast, informed decision making within business processes.

› Innovation at consumer pace
Innovation at consumer pace is key to FlowForma's development. ''Our Innovation Council and Research and Development team, who work tirelessly to innovate value-adding features, constantly enhance user experience and utilize Microsoft's growing Internet of Things advancements,'' said Paul Stone, Product Evangelist, FlowForma.