Everything's a bit different right now. I know the phrase 'a change is as good as a rest' is often bandied about, but nobody could ever foresee the changes to our lives that we're currently experiencing. However, in every dark time, there is always light at the end of the tunnel. Thankfully we're all finally starting to see it in the near distance.
As everyone begins their preparation for staff to return to the workplace over the coming weeks and months, we can look forward to getting some much needed structure back into our lives. Despite this, our office experiences will be nothing like they used to be. In fact, it will be something that we've never experienced before. No longer will we chat at the water-cooler, or even share our lunch together in the canteen. We have to adapt and prepare ourselves for a new way of working.
I hosted a webinar with my colleagues to discuss such topics and how we can all best prepare for it. Fortunately for you, here at FlowForma we've developed some really useful tools to help get you set up to meet the new requirements necessary, for staff to return to the workplace.
Why You Need To Digitize Now
The best place to begin with preparing for the 'new normal' - that we hear so much of now, is to digitize your existing paper-based processes and bring them online. By doing this your removing the reliance on paper internally and the spread of contaminated paper across the business. This will allow processes to be completed online by staff working in disparate locations, whilst also keeping them safe from transmitting COVID-19.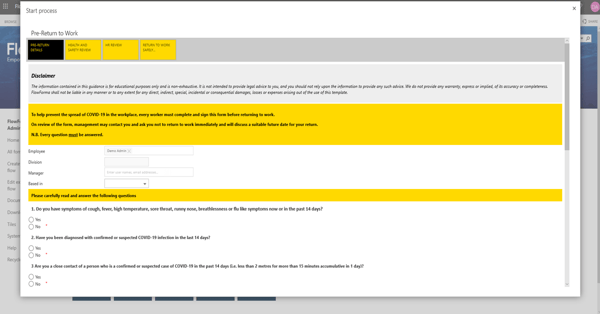 Fig 1: Pre-return to work process template
In our webinar we attributed 5 key reasons as to why you need to digitize now, these were:


Commitment - Getting the most out of employees whilst making sure they don't feel isolated when working remotely.

Continuity - The ability to keep working daily/monthly with the same efficiency using a new method.


Visibility - Having full visibility of what stage a process is at within an organization.


Collaboration - Seamlessly work with other departments and disparate workers.


Remote Workers - Having a standard of working whether in the office or working remote.
Introducing Our Return To Work Process Accelerators
During the webinar my colleagues also displayed a selection of our new return to work process accelerator templates, showcasing what they look like and how they work in a short demonstration. The great thing about these process templates is that they can be quickly and easily edited and rolled out by your organization, to ensure compliance with new return to work guidelines outlined by the government.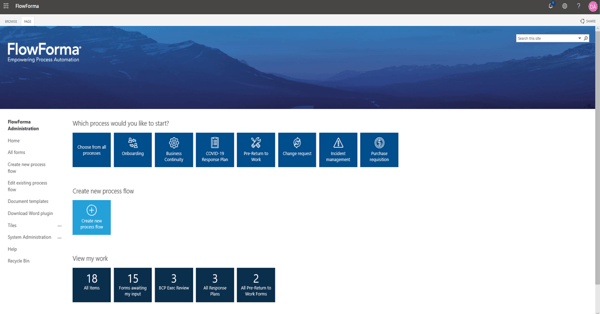 Fig 2: FlowForma landing page featuring COVID-19 process template tiles
Our return to work process accelerators include:


Project restarts

Risk assessments

Pre-return to work forms

Return to work checklists

Business continuity plans
Catch Up With The Webinar Recording
To help you further on your journey to return to the workplace, I suggest you have a look at the webinar recording from the day. It features loads of useful tips and advise for viewers who may think that digital processes are a nice thing to have internally. The fact is, it's now imperative for businesses to have a collaborative and efficient solution for now and for the future.
If you're interested in learning more about our return to work process accelerators, I recommend that you reach out to one of our product experts for a more in-depth discussion and also to hear about our range of remote collaboration bundles.
For more information on return to work processes and preparing for the new normal, visit our COVID-19 Center.