Source: FlowForma
FlowForma®, the leading provider of Process Automation tools for Microsoft Office 365®, today announced the launch of its new Governance Hub for its award winning FlowForma Process Automation tool.
The Governance Hub empowers business users to control the development and deployment of FlowForma Process Automation solutions across their organization. Users will no longer need to individually configure FlowForma deployments (apps, lists, flows and groups etc.) instead these will occur automatically with the click of a button.
This new feature offers users improved functionality for those who want to implement the tool numerous times across an organization to achieve greater ROI (Return on Investment) – for example, separate installations for HR, Finance, Operations etc.
Additionally, the new Hub empowers IT to create sandboxes for business developers, which in turn means business developers can then work within their own individual sandbox without any risk to a production environment. Here they can build out flows and test different processes before applying to IT to have them promoted for day-to-day use by the business.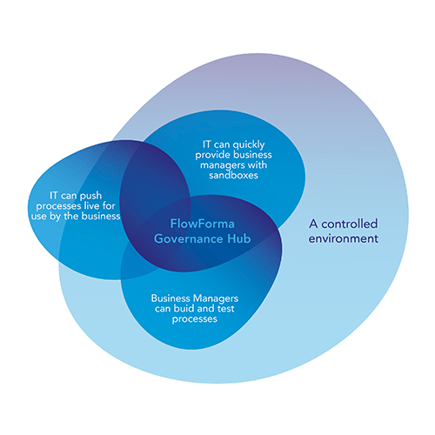 Fig 1. FlowForma Governance Hub
Ultimately, the FlowForma Governance Hub provides a framework to empower business developers the freedom to create new solutions and give IT the mechanism to act as gatekeeper over production environments, minimizing operational risk, while achieving the maximum benefit of a no-code platform deployed across the organization.
"Empowering process owners with our new Governance Hub will enable IT to see all processes currently running, all App environments, all sandboxes and push and pull processes across any environment," said Luke Kennedy, Chief Technology Officer, FlowForma.