On September 7, I was delighted to host a webinar featuring guest speaker Rob Koplowitz, VP & Principal Analyst at Forrester, alongside my colleague Shay O'Connor, Head of Solutions here at FlowForma.
The message from Forrester on this webinar was very clear: future-proofing your automation strategy is imperative for success.
I've taken the liberty to summarize some of the key discussion points from the webinar below.
1. Digitization Is Still A Top Priority
Digitization is top of the agenda for many business leaders, becoming a high-priority initiative to maintain competitiveness in a tough market. Executives across all industries are aware of the benefits of digitization more so now than ever. Forrester and FlowForma have been talking about accelerating the path to digitization for a while now, with Forrester's recent DPA survey revealing that 83% are committed to driving end-to-end automation in the future.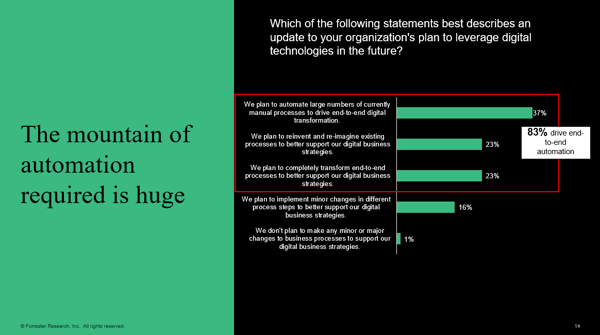 2. Agility Is More Crucial Than Ever
We need to be agile – willing to accept new ideas, new methods and new ways of working. Technology needs to match this to keep up the pace. Intuitiveness and agility need to be 'baked in' to user experiences or users won't embrace the technology. New technology needs to empower agile people to maximise their performance.
3.

Process Automation Must Be Aligned With Strategic Business Objectives
The most successful process automation projects are those that are focused on delivering strategic business outcomes. Whether it is improving productivity and savings with digitization or creating a single source of data truth to make smarter decisions, an organization must be clear with its driver for digitization.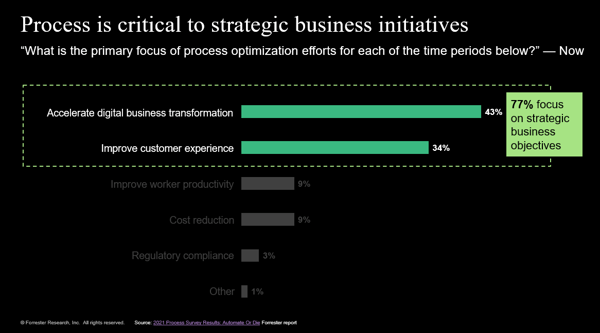 4. The Importance Of Governance
The citizen developer role is here to stay and as organizations empower business users to automate processes with no code solutions, governance must be implemented to manage risk. Applying this level of governance can involve a relatively high maintenance cost, often borne by the IT department, which maintains the infrastructure and insulates production environments from adverse changes.
To Meet The Demand For Automation in 2022 and beyond, Rob Recommends You:


Identify the scope and objectives of your process optimization efforts

What processes will generate the greatest ROI?




Rethink how and who is involved in process optimization

Process Automation should be everyone's job, not just IT
To accelerate digital transformation, improve customer/employee experiences and reduce costs, organizations need to improve and automate processes at speed.
To learn more about digitizing your business processes, arrange a call with one of our process experts or request a personalized demo of the FlowForma Process Automation tool.