FlowForma, the leading Cloud BPM provider, is pleased to announce the launch of its latest version of award winning Business Process Management (BPM) software for Microsoft Office 365® FlowForma BPM 5.0.
Step into a world where business processes are easily managed, where data flows exactly how it should, where bottlenecks are identified quickly, process reports are generated with the click of a button and you make better decisions faster.
Welcome to the world of FlowForma. The FlowForma Business Process Management (BPM) tool for Office 365 is a no-code, simply logic BPM tool that enables business users to deploy business processes with speed and flexibility, no matter what the complexity.
Sitting on the SharePoint® platform, the FlowForma Cloud BPM tool incorporates forms, workflow, document generation and decision making all in one place. The product integrates directly with your Microsoft SharePoint or Office 365 environment to leverage all the benefits that this powerful collaboration platform provides, including document management, lists, views, and Power BI.
FlowForma BPM is designed to be configured by the people who understand your business needs. Business consultants, power users, and business analysts are all examples of people who use our Flow Designer tool to quickly create complete workflow solutions on the SharePoint platform.
"With 5.0 we have added functionality to enable users to collaboratively make decisions within the workflow or form. Resources can be identified as voters and information collected during a workflow can be presented in a single view, where each voter may cast their vote based on the information presented to them at that time and optionally record their rationale. Our goal of adding this decision making capability to workflow is to enable users to make better decisions together," said Luke Kennedy, FlowForma's CTO.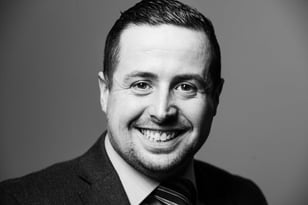 Pic: Luke Kennedy, CTO, FlowForma
FlowForma are the first vendor to add this collaborative decision making capability to a workflow engine. FlowForma's view is that this functionality will develop a Decision Learning culture within organizations where they can look back at why decisions were made at a point in time and learn from them. FlowForma believe this will be particularly relevant to industries for improving the product development process, audit trails, and performance appraisal process for example.
Collaborative Decision Enablement
FlowForma BPM 5.0 uniquely provides the functionality for users to make decisions collaboratively within the workflow/form using its Collaborative Decision Enablement feature. Resources can be identified as voters and information collected during a workflow can be presented in a single view, where each voter casts their vote based on the information presented to them at that time and can optionally record their rationale. Voting results are presented in a graphical and tabular format on a summary process step.
Have a single pane view of all relevant information

Multiple voters may review and cast their votes

An overall controller initiates, reviews and closes the vote

Votes may be public or private

The relevant information is set to read only once the vote has completed, this allows users to go back over historic voting decisions and see the information available to the decision makers at that time.
Life Sciences Feature Pack
FlowForma 5.0 allows customers to avail of our first feature pack. The Life Sciences pack adds new exciting functionality and is fully integrated into the FlowForma BPM product. Customers can activate this new functionality on their existing processes and instantly start leveraging its new features.
The pack contains features that cover three additional areas; e-Signatures, an integrated form audit record and a flow snapshot that provides a document describing the flow definition. Together, these features provide all the functionality required to validate your processes to 21 CFR Part 11 compliance. The same features can be used for compliance to many other industries where regulatory compliance is required on the storage of electronic records.
Public Accessible Forms
FlowForma BPM 5.0 has an anonymous access feature that enables Microsoft Office 365 customers to publish forms and make them available to the public. Anonymous users can fill in forms without logging into any portal.
We have implemented this solution for several customers. The publicly accessible form can be obtained directly from the customer's website. Public users fill in the form and submit it securely into the customer's Office 365 site. This form will then kick of a process relating to that form. Public users are notified at their personal email address when the form has gone through certain stages.